Our research training group is pleased to announce the Workshop Controlling Structure Formation in Soft Materials from October 11th to 13th in Mainz. This interdisciplinary workshop aims to advance our understanding of structure formation and self-organization in soft materials from supramolecular to colloidal, focusing on the interplay of experiment and computational modeling.
Topics include:
Dissipative and non-equilibrium assemblies
Molecular engineering
Computational models
Electrosolutions & Interfaces
Supramolecular functional materials
Polymer brushes
Liquid crystals
We invite abstracts for posters and a few selected contributed talks. Please, check the Workshop Program.
Registration
If you have registered for the Pre-Workshop, please pick your conference badge at the Registration Desk on Monday morning, starting at 8:00 in the foyer of the Schulz-Horner Building, where the lectures will be held.
If you have registered for the Workshop, please collect you badge and welcome package on Tuesday morning, starting at 8:00, also in the foyer.
Invited Speakers & Program
Guido Ritsema van Eck (Twente)
Stephen Cox (Cambridge)
Eric Dufresne (Zurich)
Thomas Hermans (Strasbourg)
Jan Genzer (NCSU)
André Gröschel (Münster)
Elisha Krieg (Dresden)
Siewert Marrink (Groningen)
Christine Selhuber-Unkel (Heidelberg)
Antonia Statt (Illinois)
Lisa Tran (Utrecht)
Rene van Roij (Utrecht)
Ghislaine Vantomme (Eindhoven)
Andreas Walther (Mainz)
Michael Webb (Princeton)
Pre-Conference Student Workshop
Note that there will be a pre-workshop on October 10th with the aim to facilitate networking amongst students in the field of structure formation in soft materials. Only external PhD students (and early-career postdocs) will present their work through contributed talks followed by a social gathering of students. If you are interested to participate in addition to the workshop, please submit an abstract of your work here. We will inform about the selected talks beginning of September.
Venue
The meeting will take place on the campus of the Johannes Gutenberg University in Mainz. Oral and poster sessions are located in the lecture hall C01 and foyer of the Schulz-Horner Building (2321), in between the Physics and Chemistry buildings (marked with "P" on the map).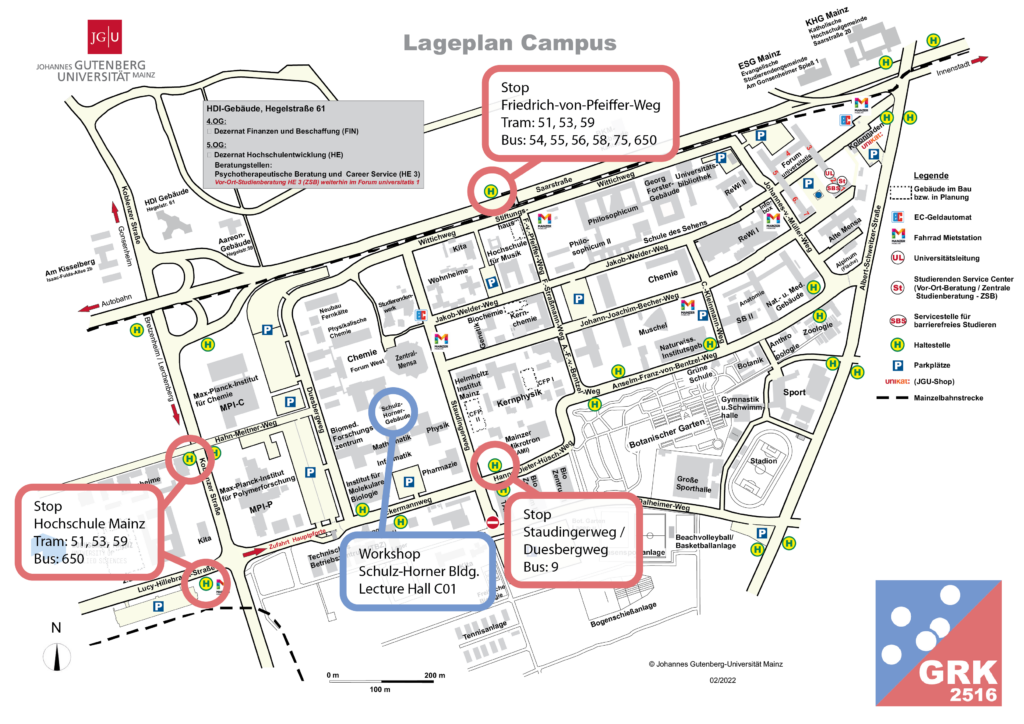 https://www.uni-mainz.de/Dateien/JGU_campus_map.jpg
The campus is easy to reach from the Mainz main train station or city center by public transport (RMV):
Tram lines 51, 53, 59: stop Friedrich-von-Pfeiffer-Weg
Bus lines 54, 55, 56, 58, 650, 68, 75, 91, 93: stop Friedrich-von-Pfeiffer-Weg
Bus lines 9: stops Staudingerweg or Duesbergweg
You can download the meeting flyer here.
Conference Dinner
A social event will take place on Wednesday October 12th. The event will include a visit to Schloss Vollrads, a tour of the wine estate, a tasting of the local wines, and a dinner.
More information to come soon...